MASTERCLASS Understanding Narcissism and Borderline Conditions
February 23 @ 09:30

-

February 26 @ 16:00

€600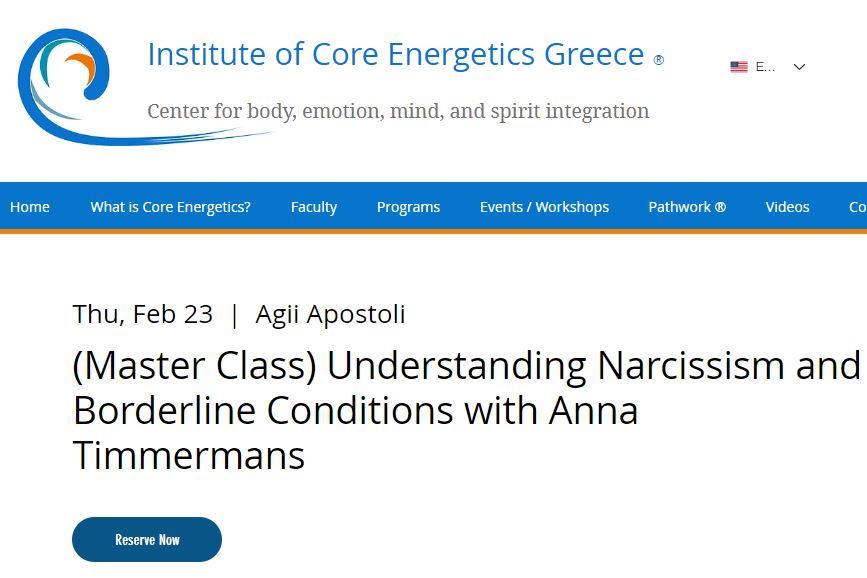 With Anna Timmermans
About the Event
In this module, we will explore:
· Your family history and how your sensitivity was created.
· How to protect this sensitivity and how to use your antennas
· Differences in healthy and distorted narcissism.
· Pitfalls for the therapist in working with a narcissistic client
· Ego and self-development
· Borderline clients and their difficulties.
· Different treatments.
Therapeutic skills relating to this topic:
· To stay with an open heart even when you are tested.
· Willingness to be genuine.
· To be clear and strict and with this you are given healthy boundaries
ANNA TIMERMANS
Anna is founder, owner and director of the Netherlands Institute of Core Energetics (NICE). Since 1982 she is a methods teacher and has her own practice. She followed the Bio Energetics Analysis training and is trained in Core Energetics by John Pierrakos. Anna teaches also in Mexico, Italy and Poland. Her passion is to train Core Energetic therapists and to develop Core Energetics as an autonomous method of Body Psychotherapy
————————————————————————————————————————————————————–
One, of course, can choose to take one or more of these classes individually, without signing on for the whole program.
Below you will find a description of these offerings and biography of the teacher.
Classes will be offered at hotel dolphin, at Kalamos, Greece.
Tuition is as follows:
Fee for the entire program will be €2,500
Fee for individual classes will be €600 each
In addition, there will be board and room fees (TBA)