On this page you find workshops and courses organized by NICE and by other Core Energetics institutes or Core Energetics therapists.
The description of the workshop is in the language of the workshop.
The workshops organized by NICE are marked with the NICE-logo.
Op deze pagina vind je workshops en trainingen, georganiseerd door NICE en door andere Core Energetica scholen of therapeuten.
De beschrijving van de workshop is in de taal van de workshop.
The workshops die door NICE worden georganiseerd, herken je aan het NICE-logo.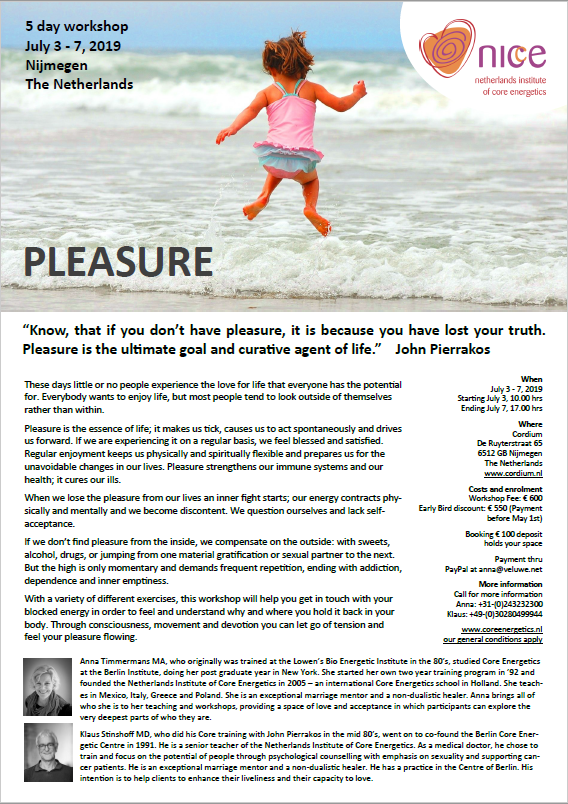 5-day workshop Pleasure | July 3-7, 2019 | Nijmegen, The Netherlands | Language: English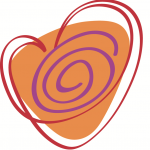 With a variety of different exercises, this workshop will help you get in touch with your blocked energy in order to feel and understand why and where you hold back. Through consciousness, movement and devotion you can let go of tension and feel your pleasure flowing. With Anna Timmermans and Klaus Stinshoff. (This workshop counts as therapy-hours for NICE-students.)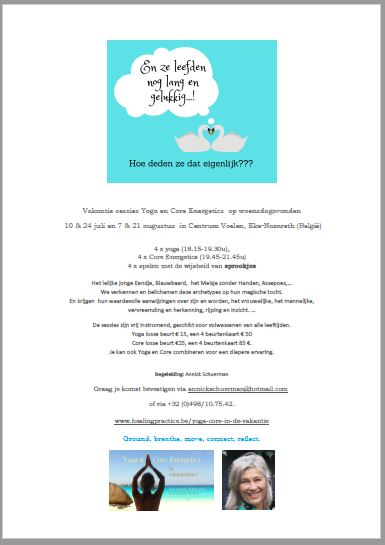 Summer sessions Core and Yoga | starting July 10, 2019 | Eke-Nazareth, Belgium | Language: Dutch
Vakantiesessies Yoga en Core Energetics op woensdagavonden, door Annick Schuerman.  10 & 24 juli en 7 & 21 augustus. Het lelijke jonge Eendje, Blauwbaard, het Meisje zonder Handen, Assepoes... We verkennen en belichamen deze archetypes op hun magische tocht. De sessies zijn vrij instromend, geschikt voor volwassenen van alle leeftijden. Je kunt ook Yoga en Core combineren voor een diepere ervaring.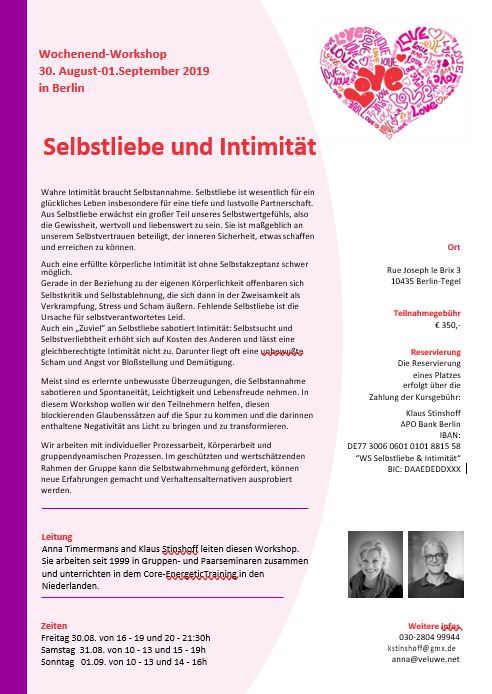 Workshop Selbstliebe und Intimität | Aug 30 - Sept 1, 2019 | Berlin, Germany | Language: German
Meist sind es erlernte unbewusste Überzeugungen, die Selbstannahme sabotieren und Spontaneität, Leichtigkeit und Lebensfreude nehmen. In diesem Workshop wollen wir den Teilnehmern helfen, diesen blockierenden Glaubenssätzen auf die Spur zu kommen und die darinnen enthaltene Negativität ans Licht zu bringen und zu transformieren. Wir arbeiten mit individueller Prozessarbeit, Körperarbeit und gruppendynamischen Prozessen. Mit Anna Timmermans und Klaus Stinshoffstand. (This workshop counts as therapy-hours for NICE-students.)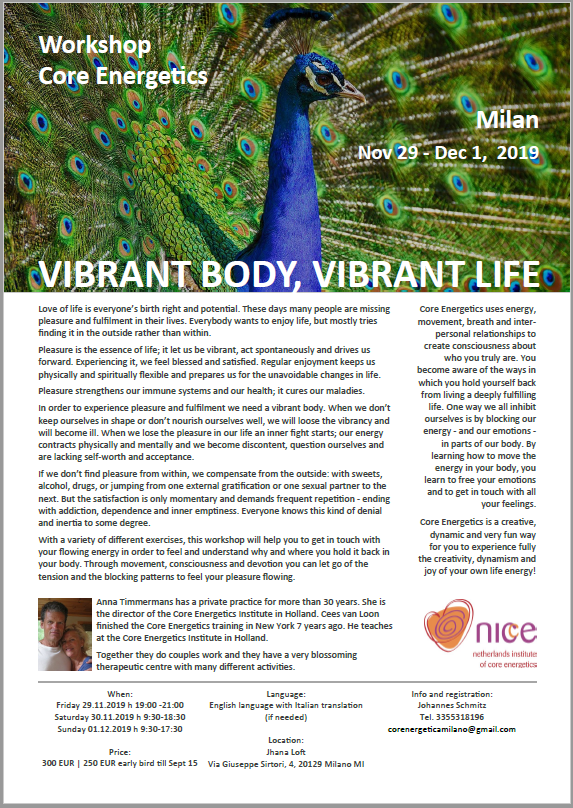 Workshop Vibrant Body, Vibrant Life | Nov 29 - Dec 1, 2019 | Milano, Italy | Language: English with Italion translation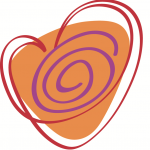 Pleasure is the essence of life; it let us be vibrant, act spontaneously and drives us forward. Experiencing it, we feel blessed and satisfied. Regular enjoyment keeps us physically and spiritually flexible and prepares us for the unavoidable changes in life. This workshop will help you to get in touch with your flowing energy.  With Anna Timmermans and Cees van Loon. (This workshop counts as therapy-hours for NICE-students.)