On this page you find workshops and courses organized by NICE and by other Core Energetics institutes or Core Energetics therapists.
The description of the workshop is in the language of the workshop.
The workshops organized by NICE are marked with the NICE-logo.
Op deze pagina vind je workshops en trainingen, georganiseerd door NICE en door andere Core Energetica scholen of therapeuten.
De beschrijving van de workshop is in de taal van de workshop.
The workshops die door NICE worden georganiseerd, herken je aan het NICE-logo.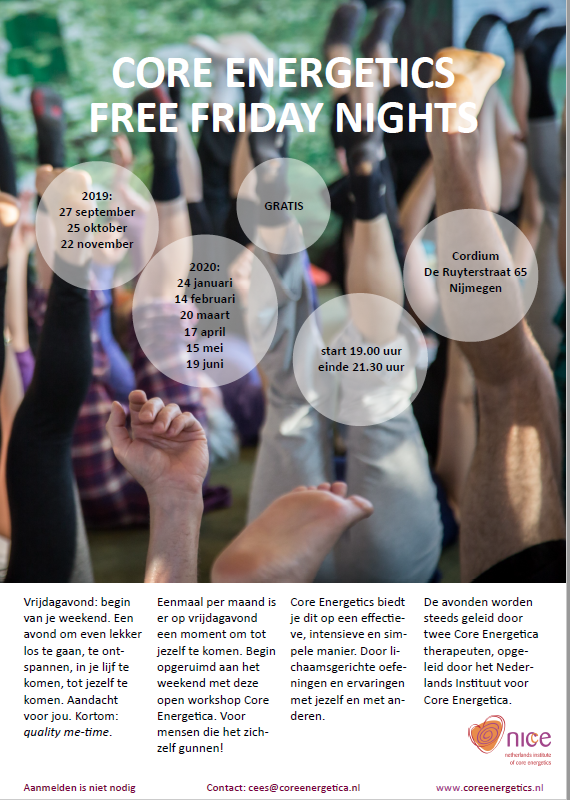 Free Friday Night! | June 19, 2020 | Nijmegen, The Netherlands | Language: Dutch with English translation if necessary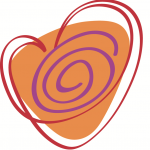 Vrijdagavond: begin van je weekend. Een avond om even lekker los te gaan, te ontspannen, in je lijf te komen, tot jezelf te komen. Aandacht voor jou. Begin opgeruimd aan het weekend met deze open workshop Core Energetica. Voor mensen die het zichzelf gunnen! De avond wordt geleid door twee Core Energetica therapeuten, opgeleid door NICE.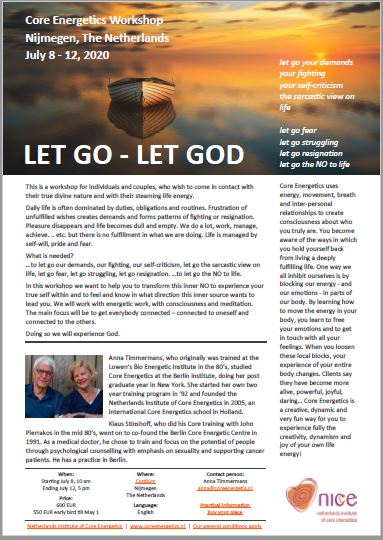 CANCELLED - Summer Workshop Let Go Let God | July 8 - 12, 2020 | Nijmegen, The Netherlands | Language: English
This workshop is cancelled and will be rescheduled in 2021.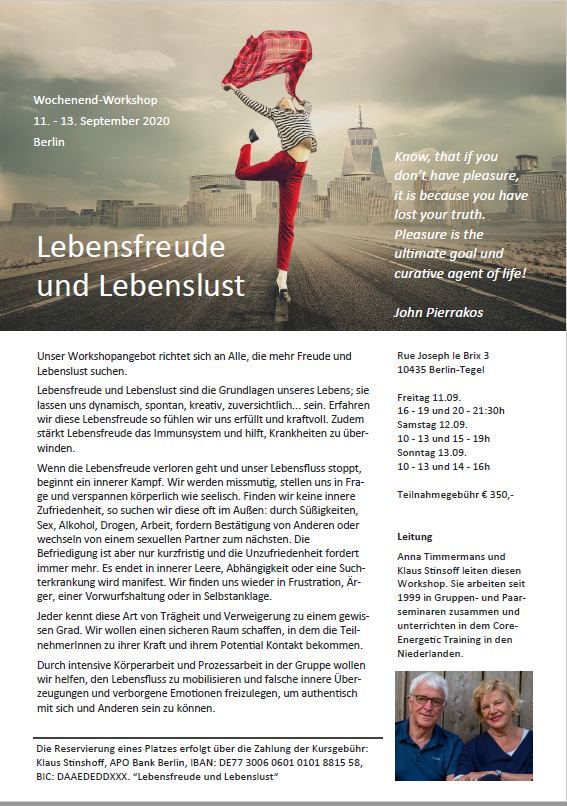 Weekend Workshop Joy of Life, Lust for Life | September 11 - 13, 2020 | Berlin, Germany | Language: German
Lebensfreude und Lebenslust sind die Grundlagen unseres Lebens; sie lassen uns dynamisch, spontan, kreativ, zuversichtlich... sein. Wenn die Lebensfreude verloren geht und unser Lebensfluss stoppt, beginnt ein innerer Kampf. Wir werden missmutig, stellen uns in Frage und verspannen körperlich wie seelisch. In diesem Workshop wollen wir durch intensive Körperarbeit und Prozessarbeit in der Gruppe den Lebensfluss mobilisieren und falsche innere Überzeugungen und verborgene Emotionen freilegen, um authentisch mit sich und Anderen sein zu können. Leitung: Klaus Stinsoff  und Anna Timmermans.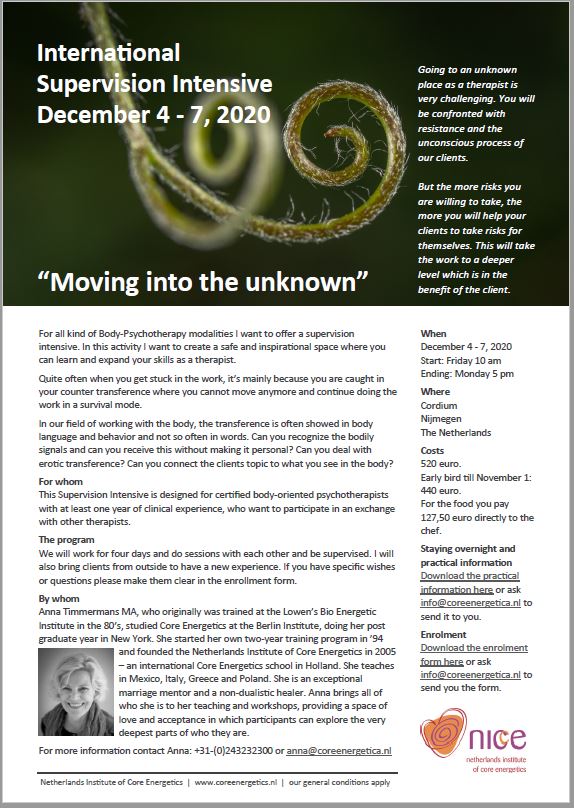 International Supervision Intensive | December 4 - 7, 2020 | Nijmegen, The Netherlands | Language: English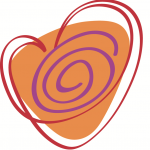 In our field of working with the body, the transference is often showed in body language and behavior and not so often in words. Can you recognize the bodily signals and can you receive this without making it personal? Can you deal with erotic transference? Can you connect the clients topic to what you see in the body?  This Supervision Intensive is designed for certified body-oriented psychotherapists with at least one year of clinical experience, who want to participate in an exchange with other therapists.